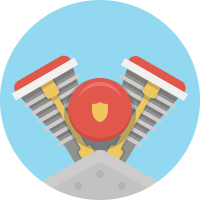 For many businesses, social media is either largely ignored, misunderstood, feared, or some combination of all three. Yet, social media represents an opportunity to connect with customers, build audiences, and directly improve your bottom line.
That's easier said than done, of course, but the plethora of powerful and free tools at our disposal make these aims easier-than-ever. The general strategy you'll need is often the same too, regardless of business size or marketing budget. Let's begin by unpacking the role of social media in general, and then explore some actionable tips and recommendations for "supercharging" your social media content.
Role Of Social Media
Most people know great social media when they see it. For starters, it likely has little to do with selling. This may sound counterintuitive, especially to those who may be just getting started, but even the pros among you may be guilty of this mistake on occasion.
Push vs. Pull
In the days before social media and now ubiquitous search engines, businesses had to "push" their marketing and advertising on audiences they hoped included potential customers.
Old media certainly still works, or else the Super Bowl would have no commercials! But these days businesses have an opportunity to build their own audiences and "pull" people into their ecosystem with educational, empowering, or entertaining content.
Social media has an important role to play in that process. Four roles, to be exact;
Build Community– Social Media can be used to nurture relationships and become a touchpoint with customers.
Increase Brand Awareness– Content that is shared, liked, starred, etc. opens up your brand to new networks of potential customers with your existing, endorsing customer in common.
Provide Value– Many businesses miss this step. Before you sell, you have to gain the "know/like/trust" factor of your potential customer. Providing value is the most effective strategy to leading fans to convert into customers,
Generate Leads– At the end of day, to be effective social media needs to need turn fans and followers into paying customers. Content that tells a compelling story is the first touch-point in that process.
Now that we've discussed the roles social media plays, let's discuss how that actively translates into business development.
5 Phases Of A Social Media Marketing System
The important roles that social media plays correspond to an ongoing business development cycle made up of five phases:
Grow Your Following- This is where at the outset you're asking friends, family, and clients to Like or Follow your page, though efforts become more sophisticated over time.
Build Trust & Provide Value– If you plan to eventually convert fans into customers, you're going to first need to share content that in effect offers "something for nothing" to build credibility.
Create A Lead Magnet– In this next step, offer something of value that interested fans are willing to trade in exchange for their email address.
Drive Traffic & Grow Your List– Now that your lead magnet has helped you build an email list, you can create email campaigns to drive traffic back to your website.
Convert Leads Into Customers– Once on your site, you now have the opportunity to turn potential customers into the real thing.
The Three "E's" Of Content Creation
Each of the above phases requires content in some shape or form. Each piece of content should do at least one of three things: Entertain, Empower, or Educate.
When producing your content, you also want to keep in mind the critical rule of thumb that "facts tell, stories sell." Consider what you're doing an investment in your audience, who in return will invest in you. All the norms of networking in "real life" apply online. Get to know them. Listen, ask, engage. Don't be that guy at the networking party pitching one person after another. Build real, mutually beneficial relationships you can leverage over time.
JetBlue does an excellent job hitting really all of these targets in their Puerto Rico Instagram campaign: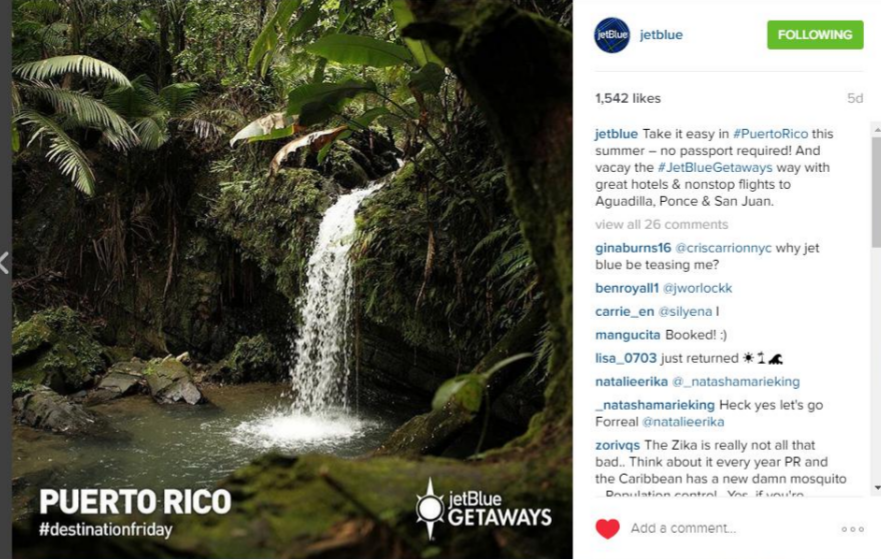 More locally to Athens, few tell a story better than Sons of Sawdust: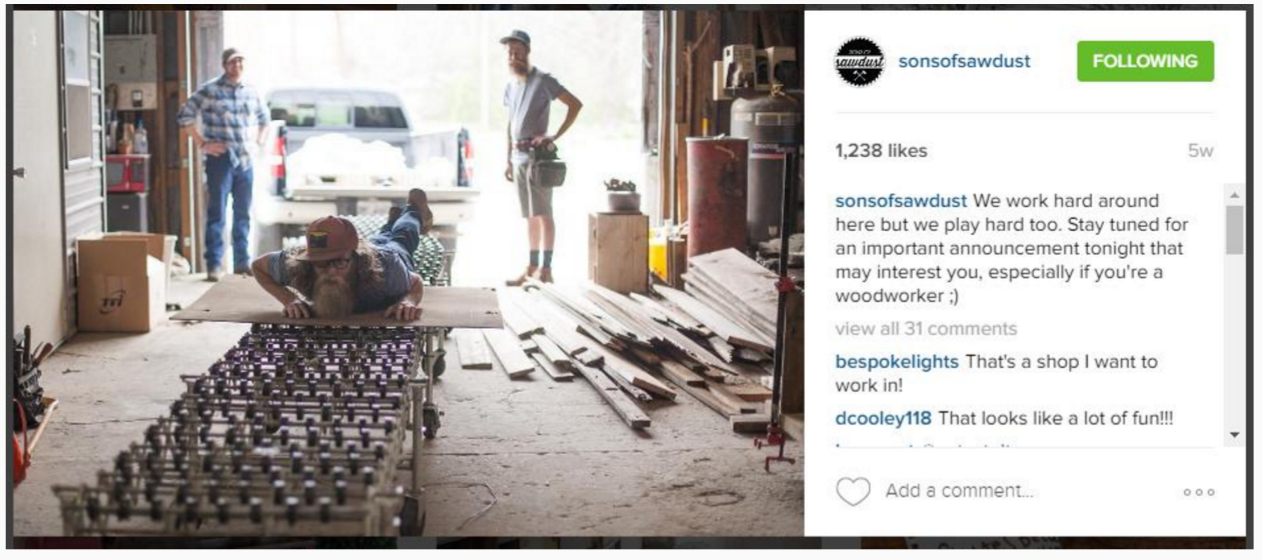 5 Essentials Steps to Supercharged Content
So far we've covered a lot of background theory and strategy. Now let's move on to talk about the essential ingredients to creating supercharged content for social media.
Step 1: Know Your Ideal Client
This requirement goes without saying but can hardly be overstated. If you want to attract customers, you need to be able to speak their language. Know them and their pain points better than even they do. If you understand who you're talking with, your content will resonate and your audience will become receptive to your solutions to their problems.
Where does that information come from? Start simple and communicate with existing customers. Don't be afraid to ask, but definitely check out who they follow, what social platforms they prefer, and what they like and respond to.
You could also send out a quick survey. Ask your customers about trends, lifestyles, demographics, if they have any questions or even pain points you're not solving.
If you want to get really into it (and you should), create a client avatar. Imagine and describe your ideal customer. What does that customer want to hear more about? This exercise will add clarity to your content. And remember, in the words of Marie Forleo, "Clarity comes from experience, not thought." So get out there and learn, don't assume!
Step 2: Get Inspired
You're not going to be able to get out of bed in the morning if you aren't inspired, let alone produce epic content. So study the brands you admire and their competitors for ideas to model. You don't want to copy anyone, but see what's out there, and keep a running list of ideas.
Step 3: Leverage Visual Content
The verdict is in, and there's no question that visual content performs better on average compared to just text.
For starters, according to Xerox Research, colored visuals increase a person's willingness to read a piece of content by 80%. Kissmetrics found that content with relevant images gets 94% more views than content without relevant images.
Think you need fancy equipment to make great visual content? Think again. Check out what @simonebirch is doing on Instagram with only an iPhone.
There are a ton of great mobile apps to help you leverage visual content on the go. Here are some favorites:
Step 4: Get Organized, Save Time
Make use of a content calendar to plan out posts, decide on frequency (err on quality over quantity), and stick to a schedule. With tools like CoSchedule and Bufferapp, you can plan content in advance and put your month in autopilot.
Make sure to prioritize content around your business objectives for the period. If you're selling a particular product, make sure your blog, videos, graphics, tips, Tweets, etc., all at some point lead into what you're selling.
To keep things fresh, alternate your shared content by content buckets. Common buckets include blog posts, questions, other people's content, promos, contests, inspiring quotes, tips and tricks, and anything else you want to add to the mix.
Here are some great tools to help you organize, curate, and automate your content:
Step 5: Implement The Perfect Post Formula
You've done all this work and come so far, so make sure your social shares knock it out of the park!
Use fun, conversational copy, and make sure your posts educate, empower, or entertain. As we've already covered, you'll want to make sure your shares include a great visual, too.
For bonus points, include a Call to Action (CTA). These depend on your goal, whether it's to continue reading a post on your site, take part in a promotion, check out a product, or some other intended outcome.
We love this example from Madison Social, showing off a sandwich that looks so good it IS the Call-to-Action!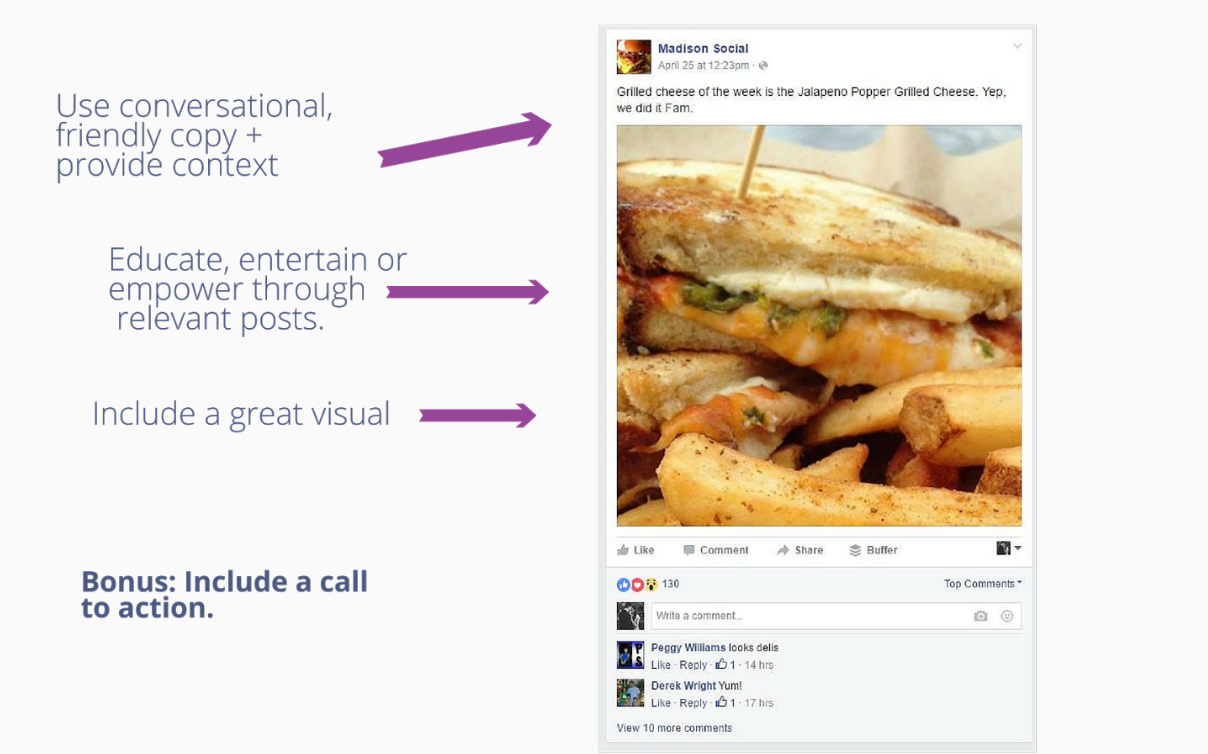 Key Takeaways
You're all set to supercharge your social media content! A few last general tips to think on before you get started:
Talk to people on social media as if they were your friend, not a corporate client.
Be real and transparent. Over polished posts on social media are not relatable.
Get your team involved and ask them for ideas.
Always keep testing, experimenting and learning.
Be patient. Like any other skill, creating epic content on social media takes practice.
Take a look at what is already working and do more of it.