During our recent executive retreat in Virginia Beach, Michael and I decided to Uber over to one of my favorite local spots, Back Bay Brewing Co. We were working late, but were assured by our benevolent Google overlord that Back Bay would be pouring coastal suds till 11 PM.
When we arrived at 9:15 PM and found out that Back Bay would be closing at 10 PM, we were sad that our hard-earned revelry would end earlier than expected. "The hours are even stenciled on the door!" said the friendly barkeep.
But of course us being us meant that we couldn't let it go. Particularly when we overheard a call to the brewery requesting confirmation that the place closed at 11 PM. "Nope, we close at 10."
Except that's not what the world thinks, and the circled area below is all anyone is going to see, particularly on their phone: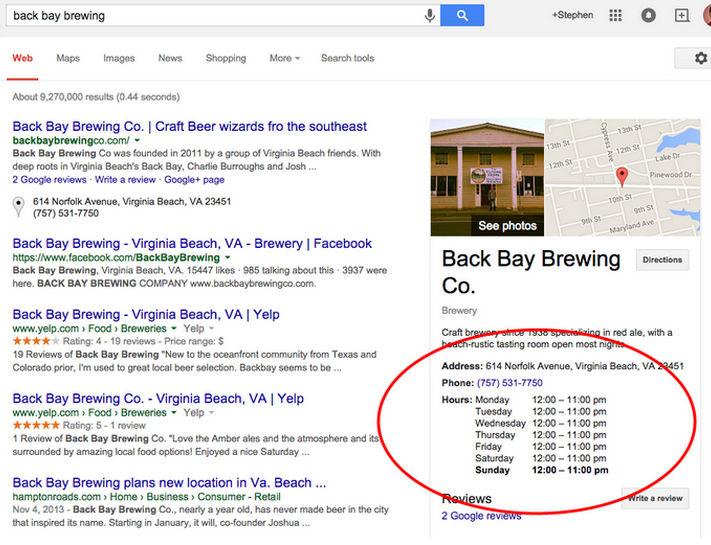 Misinformation is More than an Inconvenience
This is a serious business issue. Misinformation is really irritating to a customer, and can directly lead to lower sales.
Newsflash: The web is a huge part of ensuring positive experiences. You are responsible for all the available information about your business on the web, and if it's wrong, no one is going to blame Google. They are going to hold it against your brand.
It Doesn't Matter What Your Website Says
We found this problem elsewhere, and heard more than once, "Well, the correct hours are on the website."
As if it was our fault — the customers! — for not finding our way to your obscure operating hours page on your mobile-unfriendly website when the (wrong) hours were so conveniently available directly in search engine results. So we advise that you take some responsibility here and make sure those hours are correct. Make a habit of doing this frequently. It's actually probably far more important than the sign you hang in your window. Here's how it's done:
How to Update Your Business Hours in G+
Step 1: Find Your G+ Page. Do You Own It?
If your G+ profile page doesn't show up when you search for your business using Google, try finding it on Google Maps. You can then get to the G+ page by clicking "write a review" or clicking to read existing reviews.
This is where it's incredibly important to make sure you own the listing. There can only be one owner. If you see this button click it as fast as you can and count yourself lucky that a competitor hasn't hijacked it already:

If you are the owner of the business but someone else has claimed ownership of this profile, this is a big deal and you want to get things resolved ASAP. Here's how: https://support.google.com/business/answer/4566671?hl=en
If you don't have a G+ page for your business, you should create one. That way you can do neat things like include your hours so that people can easily find them (hint, hint). Google has consolidated G+ into what is now called Google My Business. If you start here it'll walk you through the whole process of building a profile and verifying your business. Schitzo Google will probably change this name again, but don't worry — it's all the same thing. Go here: https://www.google.com/business/
Step 2: Check Your Hours. Are They Correct?
If you click the featured hours for that day you'll see a list of the whole week. Here we clearly see the inaccurate hours of Back Bay Brewing Company: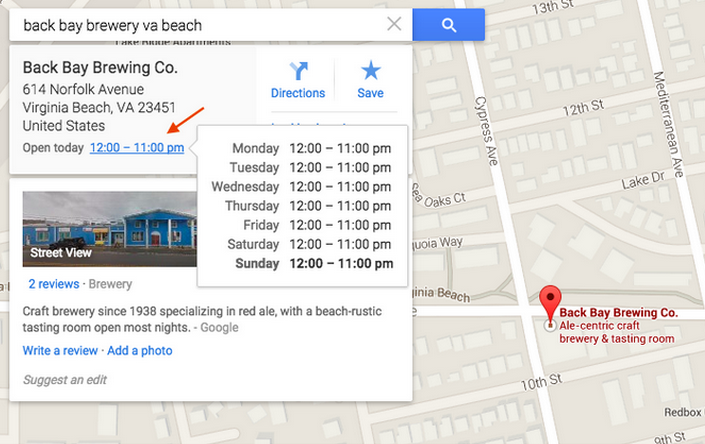 Now move through to your G+ page by clicking "write a review" or click existing reviews and update your hours. You'll need to be logged into Google with the (Gmail) account associated with the profile to be able to edit the page. If you have access to the page, you'll see this at the top of your screen:

If you're just a concerned fan and not the business owner, you can let the business know if its data is incorrect, or click "suggest an edit." That's what I just did. You're welcome, Back Bay Brewery!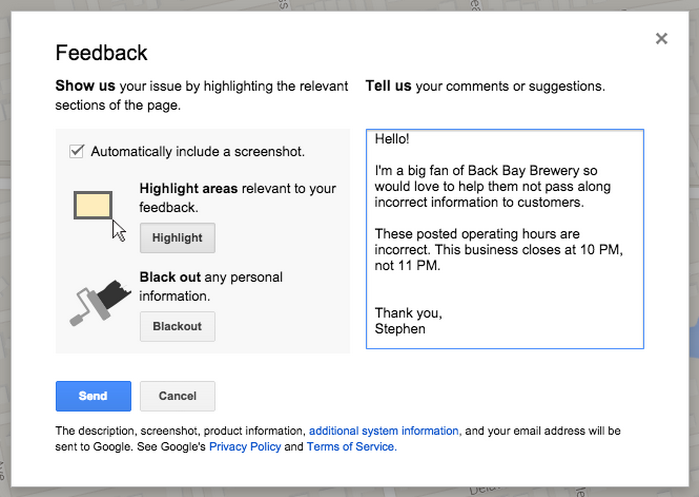 So remember, managing the information about your business on the web is your responsibility. Failing to do so could cost you even more than a few missed sales opportunities. Hopefully, this guide will help you claim your listing and correct any issues!
Interested in getting more competitive in local search results? We can help. Contact us today!