Find out how to use custom analytics segments to increase your conversion ROI.
We are inundated with information about conversion funnels. In business school, I remember reading about the classic "Awareness → Interest → Consideration → Action" depiction of a sales funnel and thinking, "Sure, but now what?"
The missing element is how to actually apply the psychology of the customer decision making process to an online experience in order to improve conversions/sales. This is the most exciting part!
Powerful tools like Google Analytics and AdWords can help you do just that.
The Opportunity
Glory awaits if you can conceptualize and plan the website content you produce, the social media you share, and the ads you run as part of this funnel.
As illustrated below, the stages of the conversion funnel are perhaps best thought of from the customer's perspective, as questions that need answering.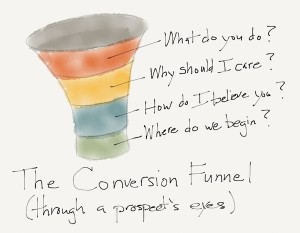 Courtesy of Scott Brinker, Search Engine Land
It's your job to make sure that your website has the key content it needs to answer these questions. Does your homepage effectively and quickly communicate your core value proposition? Do your "learn more" pages offer clear product/service details, benefit comparisons, and a compelling narrative? If they do, are there clear calls to action?
If so, you just might have what it takes to close the deal. Or maybe not.
Creating Audiences with Google Analytics
Once you've got the basic site infrastructure and content your funnel needs, how do you encourage customers to continue moving towards your macro conversion, your ultimate goal?
After all, your prospects may run out of time, get distracted, or decide they'll come back later. That is, if they remember you, and a competitor doesn't pop up first.
Using Google Analytics, you can create audience lists based on pages visited, or even a combination of pages visited and not visited, helping you refine your audience based on their conversion stage.
For example, you can create a "combination audience" of people who have visited your homepage, but haven't yet seen pages about who you are or the benefits you offer compared to the competition. In another example, they might not have registered yet for an event, but you hope they will return to your site to do so.
Import Audience Lists into AdWords for On-Message Targeting
Once you have your audience lists based on conversion stage, you can link your Analytics and AdWords accounts, then create a "remarketing" campaign so ads on the Google Display network will only appear to people on those lists, encouraging them to return to your site to move to the next stage. Remarketing is now (finally) available on the search network, too.
A Conversation Across the Web
By creating AdWords remarketing lists out of conversion stage-based Analytics audiences, you can engage your customers around the web and entice them back to your funnel. Facebook, too, now has similar remarketing tools that can further enhance your efforts.
This conversion stage-based approach is ideal if you have a less transactional product (e.g. a new camera vs. cheap red socks), and thus a longer sales cycle. As the data rolls in, you can even develop remarketing lists based on demographics and interests.
AdWords can help raise awareness of your offerings, but remarketing campaigns can help you seal the deal and improve your ROI!