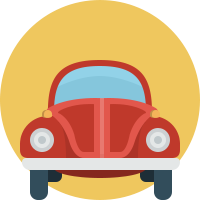 Online visitor traffic is the lifeblood of online businesses, but it is increasingly a major competitive advantage for brick-and-mortar stores too. Fortunately the "war" for traffic is not of the Game of Thrones variety, even though coming up short on sales goals can sometimes feel a bit like losing your head depending on where you work!
Keeping up with rapidly changing technology and consumer behaviors to "win" site traffic is a big challenge for small businesses, let alone figuring out how to really take advantage of them. So how can a small business with limited resources compete? One great way is to leverage the unique strengths that come from being local.
Is Loyalty Dead? No, But The Stakes Are Higher.
In the bygone days of B.I.E. (Before Internet Era), the majority of sales were from loyal customers. Companies could try for some new customers on the fringe, but mostly they could rely on loyalty to keep the wheels turning.
But loyalty isn't what it used to be. Is loyalty dead? The short answer is no. People are still loyal, but not necessarily to any particular brand. People are loyal to the moment.
What Are You Loyal To?
Think about how you likely make purchasing decisions. Do you navigate directly to a company's website, or do you do a Google search and look for items that appeal to you based on price, design, reviews, and other factors you care about?
If you find something that piques your interest, do you then click through and check out a company's site, browse FAQs, consider testimonials, and maybe even go check if their social media profiles are active?
People are loyal to a brand if it is with them in that purchasing moment. That "moment" includes everything from showing up in search through delivering a great user experience that influences a sale.
Shopping Small vs. Going Big
According to a study by Google, 70% of sales are now digitally-influenced. As consumer behavior evolves, it's more important than ever to "be there" for customers when they search for what you offer.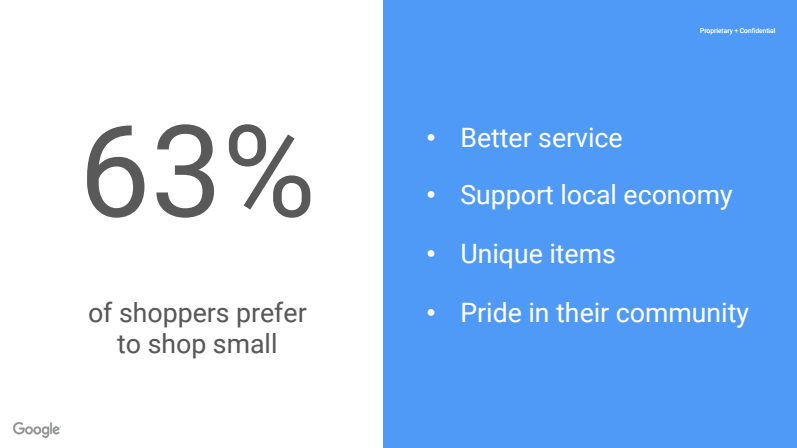 In another study, Google asked if given a choice, would people rather shop from a small local business or large national chain. Perhaps unsurprisingly, 63% of respondents said they prefer to shop small. The reasons cited included better service, support for local economy, unique items, and pride in their community.
So why don't more customers shop small? If the 63% really did, Amazon wouldn't be the powerhouse that it is. A recent report that over last holiday, 49 cents of every dollar went to Amazon.
Opportunity At The Local Level
Though people love the idea of shopping in their local communities, big online brands are winning consumers' dollars by outcompeting on speed, convenience, price, and online convenience.
It may be unrealistic to compete with Amazon on speed or price, but one of the top reasons cited for going with the big guys was that they have a better online experience. This, small business CAN compete on!
Foot Traffic Down, Per Visit Revenue Up
In the last five years, foot traffic to local businesses decreased 60%. That sounds scary at first glance, but during the same period in-store sales went up 17%. Why is it that there are fewer visits but each visit is more profitable?
The answer is digital. Consumers are now much more informed. They know what they want to buy, and who they want to buy from, so they are able to make the most out of each store visit.
Nearly All Sales Are Offline, But Most Are Digitally-Influenced
This is a huge opportunity for local businesses, who have some serious competitive advantages in the local marketplace compared to big brands.
For starters, 93% of sales are still happening offline, and as earlier noted 70% of these sales are digitally-influenced. By having a plan to be present before, during, and even after a sale, there is potential for local businesses to significantly improve their store performance.
Engage Before, During, And After
Given the evolving nature of how people use the web, winning customers goes far beyond just getting them into your store. In fact, here is a breakdown of data on how consumers access digital information as part of an in-store shopping experience.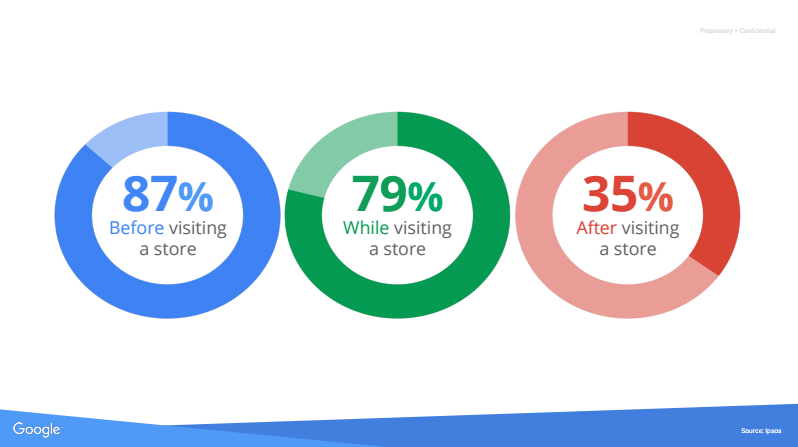 As you can see, a large percentage of customers supplement their in-store shopping experience with online engagement before, during, and even—to a lesser extent— after visiting a store.
While in the store, consumers are comparison shopping, checking out return policies, looking for sales — nearly anything to avoid finding a sales associate. So make sure they have all the information they need easily accessible online!
After a visit, a smaller percentage of customers continue to engage a brand. But don't let the smaller number of visitors fool you. The impact of this engagement can be massive.
For example, Google has seen a huge influx of user-generated content on Youtube in so-called "Haul" videos, where people talk about what they bought. The view counts are sometimes through the roof, and the positive effects for featured businesses can be huge.
Adapting To A Mobile World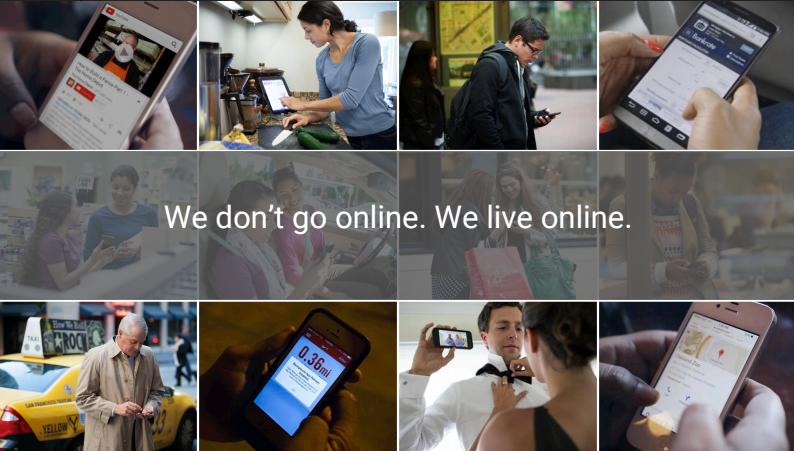 The truth is, people don't "go" online, they live online. Phones are no longer a device, but more akin to a personal assistant. If you suffer from mild to severe panic attacks if you don't have your phone with you, you know what I mean quite well.
You also probably expect websites to load quickly on your phone, and be easy to navigate. If it's not, you most likely bounce away and check out a competitor. Yet despite the huge number of mobile-based searches by consumers, companies continue to mostly (if not only) focus on their desktop experience.
This is an enormous missed opportunity. A phone is always on a person, acting as a personal assistant and gateway to the world. Shouldn't that experience be as useful and as helpful as possible?
Ignore Mobile At Your Own Peril
As of 2015, more searches are now happening on mobile than desktop. If you aren't present on mobile, it's not much different than simply shutting your doors for half the day or more.
There's a temptation to just make a desktop site mobile-friendly and call it a day. This is another missed opportunity. People engage with mobile differently. It's not just the same behaviors on a different device; the entire intent of a user can change.
Whereas you might use your desktop computer to conduct research on the web or access cloud-based work applications, a phone can serve an entirely different consumer need. For example, there has been a 34x increase in "near me" searches since 2011.
If you're a women's boutique near a person searching their phone for "clothing boutiques near me," that's potentially a very valuable query to show up for.
Once that person walks through the door, 82% of people are found to use their phone while there to help make a purchasing decision. And fully 93% of people who use their phone to research go on to make a purchase.  So even if customers aren't converting on mobile, they are in effect using mobile to convert.
This is where making sure your site is setup and optimized with Google My Business is so important. It's free, and helps make sure people near you and looking for what you offer have a shot at finding you.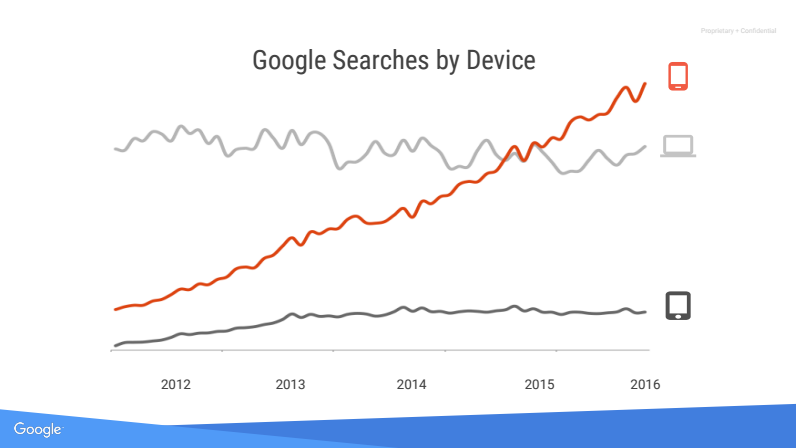 How Do You Make Money?
As Jeff Bezos, the founder of Amazon put it, "We don't make money when we sell things. We make money when we help customers make purchasing decisions." This really gets to the heart of it. We want customers to be happy, and find what they're looking for. If they do, they'll buy our products.
So much of the shopping cycle is influencing people to engage with your brand. Make them want to look for more information, to go to your website for it, and then have the helpful content and quality products they're looking for.
Key Takeaways
1) Be There in the moments that matter to the people that matter to you. Know your target audience and be there. Pinterest? Google search? Find your spot and own it!
2) Be Helpful, and don't expect people to have time or patience. Google Ad extensions can help, and maybe even to prevent an expensive click by providing enough additional information to help consumers know you might not be what they're looking for.
3) Reduce Friction. There aren't endless dollars and we all have lots of priorities, but that doesn't mean you should neglect your mobile experience. If you do, you are drastically reducing your ability to win the war for traffic.