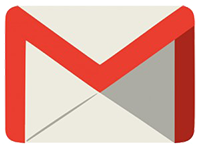 Let's talk about a frequently overlooked online marketing issue that affects a surprising number of well-established businesses: your email service. If you can't explain to a friend why you're using your current service provider, it may be time to rethink your setup and talk to a professional.
This may be familiar territory to many, but we're seeing a surprising number of people who haven't put much thought into their email setup. It's an important part of your business, and an easy one to forget about once it's all been set up. It's a good idea to periodically revisit this important communication channel.
1. Use Professional Email Addresses
It's common for small businesses to create a personal "[email protected]" or "[email protected]" personal account when first getting started. It's a free and easy way to get an email account, but it's also a signal to customers that your business needs a free and easy solution to one of its most important communication channels.
Is that the signal you want to send to your customers?
If you would rather send the signal that your business has made it to primetime, you should have email addresses like "[email protected]" or "[email protected]" for general functional areas and "[email protected]" for individual employees.
2. Get Quality Email Services
Many email providers will allow you to create fully customized addresses using your company website domain, but you should be careful about which provider you choose. Many email services seem like an afterthought, simply tacked on to website hosting plans, and the inconsistent updates and limited features of those email platforms tend to confirm that.
Premium services should be continuously improving the quality of their spam filters, their storage capacity, and other features that impact your service. Google's Apps suite certainly does this, offering a range of benefits you won't find at economy email hosting providers such as automatic backups, 99.9% uptime guarantees, better encryption and authentication protocols, and much more.
As with most things in the digital realm, you tend to get what you pay for, and there is often a lot more going on—or not going on—behind the technical scenes than you may realize.
Since you will be relying on your email quite heavily for your business, it makes sense to allocate some resources to get a great provider rather than whatever happens to come with your web hosting. Also, with services like Google charging just $5/user/mo, it's a fairly painless charge even for a small business.
3. Minimize Email Accounts with Forwards & Routing Rules
Just because we advocate paying for quality services doesn't mean that you can't still be budget conscious. Premium email services usually charge based on the number of users or accounts you need, but there are some ways to minimize your spending in this area.
Some email addresses for your business can be single accounts with multiple aliases created for them, so that messages sent to either the "[email protected]" or "[email protected]" would come to the same inbox, or the same "user" as far as your email billing goes. Those messages can then be configured to forward to specific people based on whatever routing rules you want to create.
If multiple people will be managing the same general company accounts, it might be wise to consider forwarding those messages onto a ticketing system like SupportBee.com in order to keep track of who has responded to each ticket.
If you're interested in migrating your email services, shoot us a message, and we'll be on our way to getting it done for you. From there you'll have Google powering your business communications, and we hear that their engineers are pretty good at what they do.