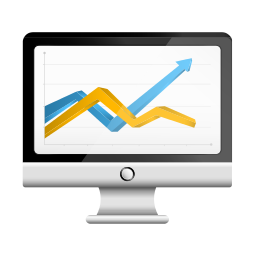 If you're looking to measure the ROI on your AdWords paid search campaigns, you'll need to know how many site visitors are clicking through your paid ads and completing behaviors that are valuable to your business.
These behaviors could include online sales, form submissions, phone calls, or various other "conversions," as we discussed in our previous post.
How Many Ad Click-Throughs Eventually Convert?
To learn the approximate percentage of conversions on your site, you'll need to make sure that you're tracking your conversion activity. But how? You have a few options, like linking your AdWords account data with your Google Analytics account, but your first step should be setting up Adwords' own Conversion Tracking tool.
Installing and configuring this tracking tool isn't technically required to run your AdWords campaigns, so it's a step often overlooked or forgotten. Don't make that mistake: Conversion Tracking yields data that can inform your content creation and guide future paid search campaigns.
What Is Conversion Tracking?
Conversion Tracking in Google AdWords is conceptually similar to Goal Tracking in Google Analytics. You define a desired conversion behavior, and Google collects data about how many of your visitors complete that behavior.
With AdWords' Conversion Tracking, conversion data is linked to your various AdWords campaigns, so you can quickly see the average percentage of paid ad click-throughs that produce the conversions you desire. This is true even if those conversions don't happen during the visitor's initial visit to your site, thanks to the black magic of browser cookies and behavior tracking.
This data will give you one of the key elements for the ROI formula we discussed in our last post. Neat!
Installing the Conversion Tracking Script
Google offers an excellent tutorial video for installing this script on your site. The installation of the javascript code itself is fairly straightforward, but if you don't feel comfortable tackling it, do yourself a favor and pay a professional to pop it in for you. It shouldn't cost very much, you'll reduce the risk of breaking your website, and it'll be well worth the nominal setup cost to have this data in the long run.
It's important to note that you'll need to include a notice to your site visitors that you are tracking their behavior. Google offers an easy way to do this via their installation widget, but you can opt out of that and instead include a notice in your site's privacy terms or data collection policy.
Don't Forget Offline Conversions!
You'll also want to make sure that you define offline conversion goals in your AdWords account, and that you get in the habit of entering data about customers who call you, mention you on social media, or complete whatever other desired behaviors that can't be tracked automatically with Google's javascript code.
Installing the conversion tracking code is a critical first step toward improving business insight into your ongoing paid campaigns, and it sets the stage for your next big leap: conversion optimization.