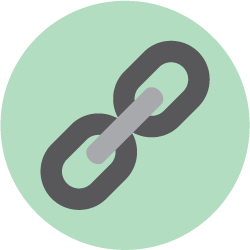 If you're looking to be dominant in local results for a query like "best car dealer athens ga" — or for whatever you do in your local market — this post is for you.
There's an endless amount of this sort of information on the web, but most of it seems to be written for professional search marketers, not business owners and managers. That why we wanted to provide a dead simple guide that covers important local SEO bases with tips and tricks along the way.
Your Local Search Opportunity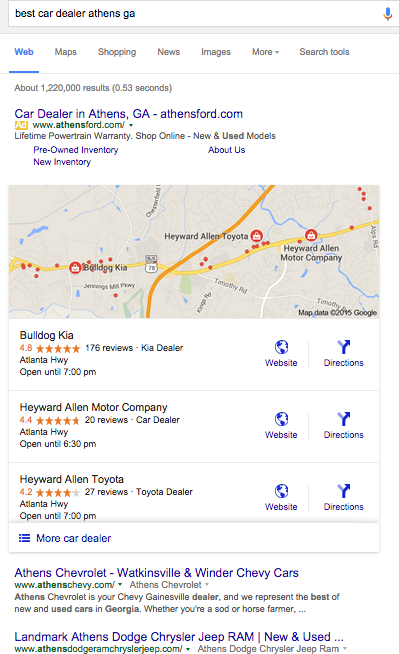 Once upon a time, a professional website with quality content was enough to compete in local search results. Now that more small businesses have these assets, it takes more to compete.
Fortunately, many local businesses are still doing little-to-no local search engine optimization (SEO), so it's possible that you don't have to do a ton of extra work to increase your competitive advantage and improve your local rankings in search engines like Google.
How do I get my business to rank better in Google?
Modern search engine optimization (SEO) efforts require content, design, social media, PR, technical performance, and link building. Much of this combined effort is geared toward link building, or the art and science of finding opportunities for other quality sites to link to yours. Link building is a major and time-consuming component of SEO.
At the local level, however, there are some low-hanging link building fruits that can make your site more competitive in local search results. Here are my top 5.
Top 5 Local SEO To-Dos
1. Submit Your Business Listings
It's very important that your business name, address, and phone number (NAP) information is correct and consistent in directories around the web. These are referred to in the industry as "citations," and send a strong signal to search engines that your business is legit. For more info, here's why everything in local search starts with a NAP.
Business Registration Managers
Business Registration Managers, or BRMs, are a huge help here, and some have free options that also include links to your site. Check out this article for more information and links to two free BRM options.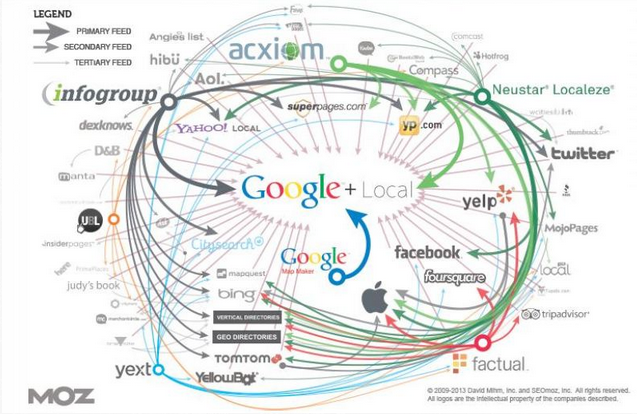 BRM Data Flow on the Web
Citation Sources
We also recommend that you manually claim or create profiles at top directories like YP.com and Yahoo. Below is a list of the top 50 business directories you should work through. Easy-to-use services like Moz Local can help you manage this process.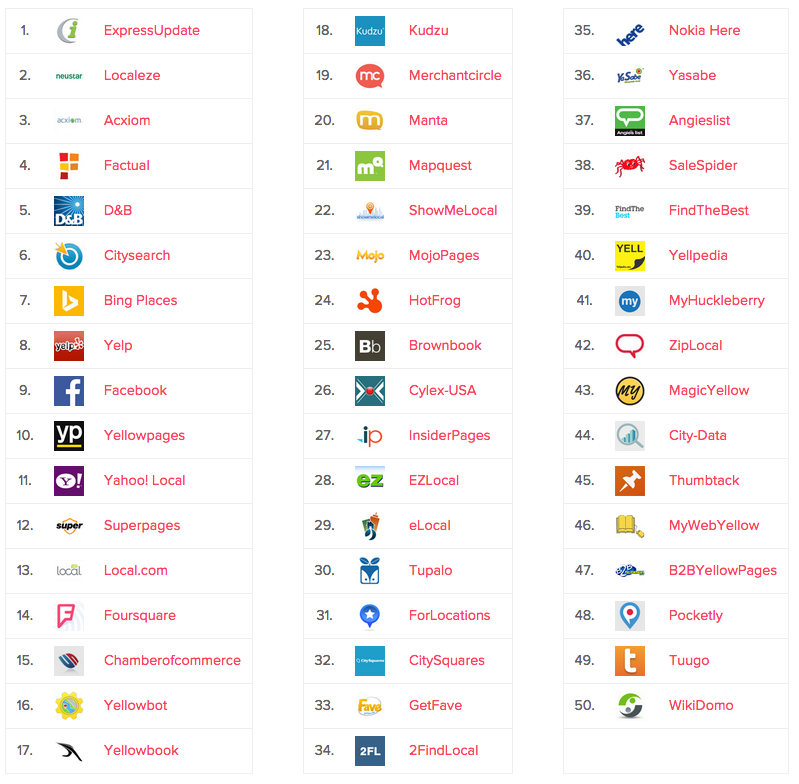 Thank you, WhiteSpark.
To quickly find additional opportunities, you can use advanced search operators to conduct Google searches like [intitle:directory "athens ga"]. There are numerous legitimate and free local directory opportunities available. So get your information out there!
Here are a few more useful searches:
KEYWORD LOCATION directory
inurl:directory "LOCATION"
LOCATION business listings
Here's what I found in about .41 seconds...
Want more? Here are some more ideas for searches, and here are even more than you'll ever need.
Follow vs. No Follow
Most of these directory links are likely "no follow" vs. a "follow" link, meaning they don't pass PageRank (i.e. SEO "juice" or "equity") to your site. But in the case of local SEO that's OK, since the citations around the web help validate your business and are thus very helpful.
2. Join Local Associations
When we welcome a client aboard, one of the first things I do is check to see whether they have a link from the local Chamber of Commerce website. Ditto from the Better Business Bureau. These are both valuable link opportunities that carry additional "real life" benefits, as well. Same goes for TRUSTe, which offers a very valuable link and a badge for your website that can help you convert.
Find Associations to Join
Regardless of your industry, there are associations and groups you can join within your market or community. These types of sites are by definition relevant to what you do, increasing the value of the link.
Searches like [LOCATION ASSOCIATIONS] can help, but associations aren't always locally based. To look nationally, you can use search operators like [intitle:association "keyword"].
As an example, I used "auto body" as the keyword and quickly found the below association page, which has both a solid domain and page authority, making it a valuable link.
Before you go to all the trouble of joining, first see if it's a "follow" link. As noted earlier, a "follow" link likely passes PageRank to your site, commonly referred to as "link equity." Otherwise it's just a business citation. Still OK, but it may not be worth the effort unless the membership itself has benefits for you.
You can use the Moz Toolbar extension or others like it to check the links on the page. All green here; good to go!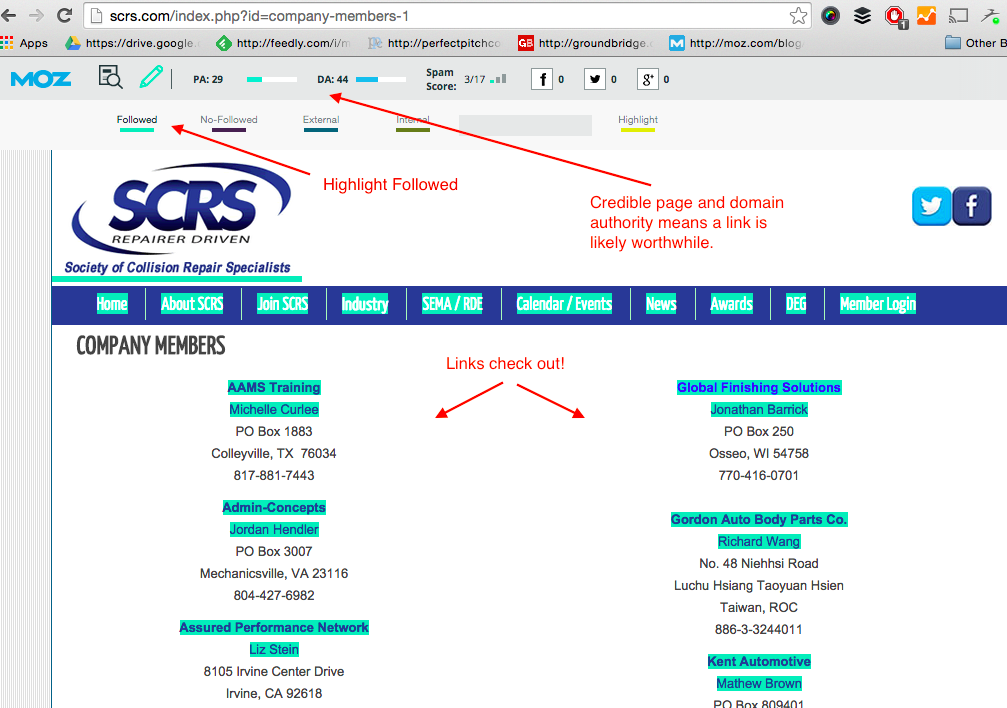 3. Sponsor Local Events & Causes
We love organizing local networking and industry events, which can be great for local SEO, but this is an easy guide to local link building! It's much simpler to sponsor an event than create one.
Google states that it does not condone the sale of links that pass PageRank. Although that policy is in the context of link schemes, content farms, and advertisers, there technically may still be risk associated with sponsor links, so proceed with caution. You're not buying a link; you're paying to support a legitimate nonprofit in your community, a laudable pursuit that you're not likely to get penalized for. But ultimately, this is a mentality thing. If you're organizing an event just for the link equity, it's probably not worth it.
Find Cool Local Stuff to Sponsor
Start with your favorite events and causes, particularly any related to your industry. You can also use searches like these if you're drawing a blank:
inurl:sponsors CITY
inurl:sponsorship CITY
intitle:sponsorship CITY
intitle:donate CITY
Here's what I found out in about .56 seconds. And although we all love Athfest, don't just click it because it's at the top.
Check out the domain and page authority of that Little League site way down at the bottom. Your SEO dollars will go much further there! Support the kids and your business — beautiful!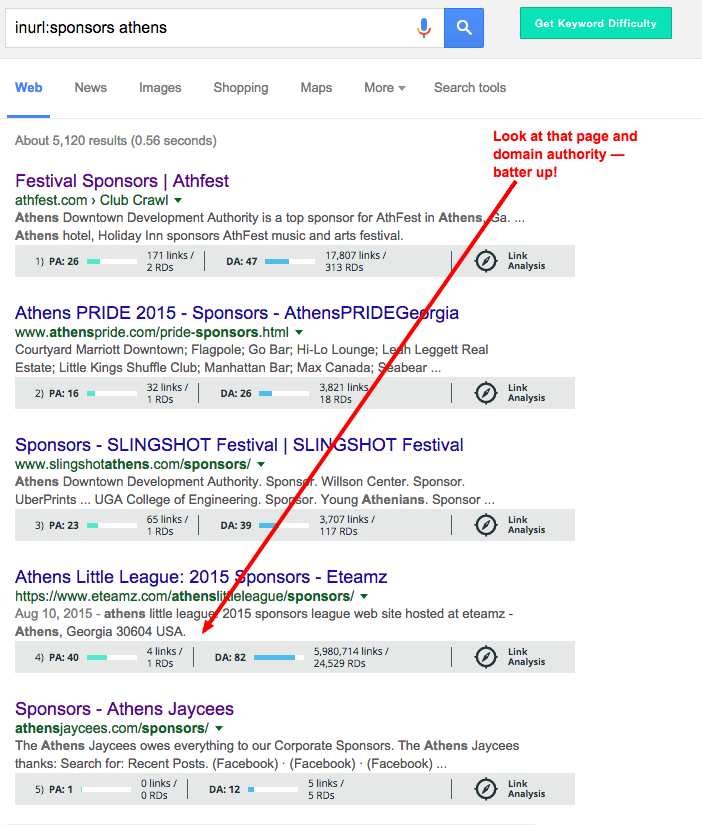 4. Testify!
Testimonials for businesses you like and reviews by people who like yours is excellent local SEO.
Testimonials
If your business has vendor relationships, those B2B businesses no doubt greatly appreciate your patronage. Imagine calling them all up and asking, "Gee whiz, I really love you guys, would you be interested in me writing a testimonial you can put on your website?"
Chances are they are going to be happy to accommodate! If they are, when you send over your thoughtful, positive review you can include the request, "Would it be OK if you linked the name of my business back to my site?" At this point they're likely happy to return the favor.
Don't just contact your vendors, either. Anyone with whom you do business is fair game. Did you have your carpets cleaned? Suggest a testimonial. Buy a car? Suggest a testimonial.
Though these can be useful local links, keep in mind that the links themselves are likely much less relevant to your business. A carpet cleaning company might not have much to do with your car business, after all. So while in moderation this is a legitimate local link building approach, it should be considered supplemental to your more concerted link building efforts, which should focus on quality and relevance of links over quantity.
Google Reviews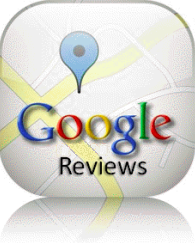 Google reviews, effectively testimonials about your business, are a major factor in local search. Google reviews are connected to your Google My Business profile page (also known as G+), which links back to your website.
Many low-quality sites still beat the competition in local search on the strength of their reviews. The first thing you wake up with and the last thing you go to bed thinking about should be how to offer so much value and satisfaction to customers that they'd be willing to review you when politely asked.
Review Tips
Go beyond the automated requests. Personally call five customers a week to thank them, and let them know how much a review would mean to you. If you only received a very natural volume of 1-2 reviews a month, you'd be doing better than the overwhelming majority of your competition.
CitruSolution franchising is a client of ours, and the Athens location isn't going anywhere soon thanks to a (if I do say) quality site and great local SEO.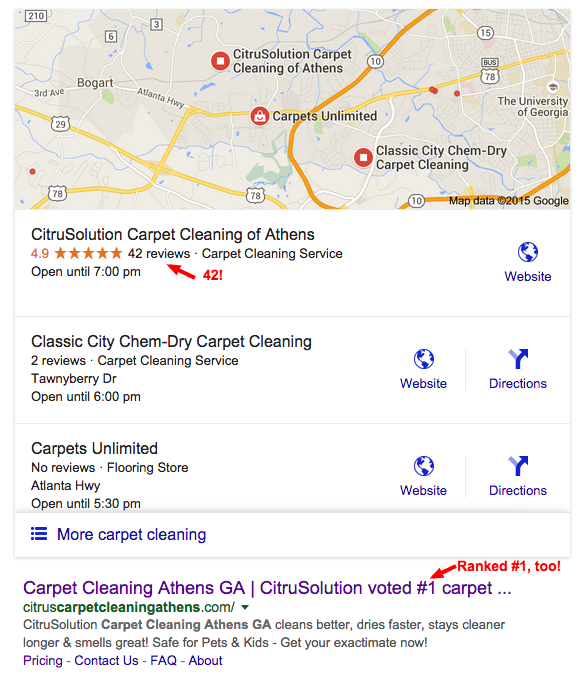 5. Check Your Competitors
Your competitors' websites are a great place to look for inbound link opportunities. It's likely that there are links to their site that would link to yours, too. That won't necessarily put you one up on them, but it does neutralize a link they had but you didn't, and it may put you one up on another competitor in your space.
Find Out Who Links to Your Competition
Though a bit more technical than the other four suggestions, this is relatively easy to investigate. Just head over to the free version of the Moz Open Site Explorer, copy in a competitor's domain, and see what pops up.
Now, I don't want to pick on anyone in Athens, so let's pick on Atlanta. I found a random jeweler in Atlanta and ran a search. Notice that I switched the three settings to:
Target: this root domain (to see as many links as we can)
Link Source: only external (since we're interested in links pointing AT this website)
Link Type: link equity (since we're interested in SEO juice)
I also selected "Group by subdomain & show social/contact links" for a more consolidated view I can quickly make sense of.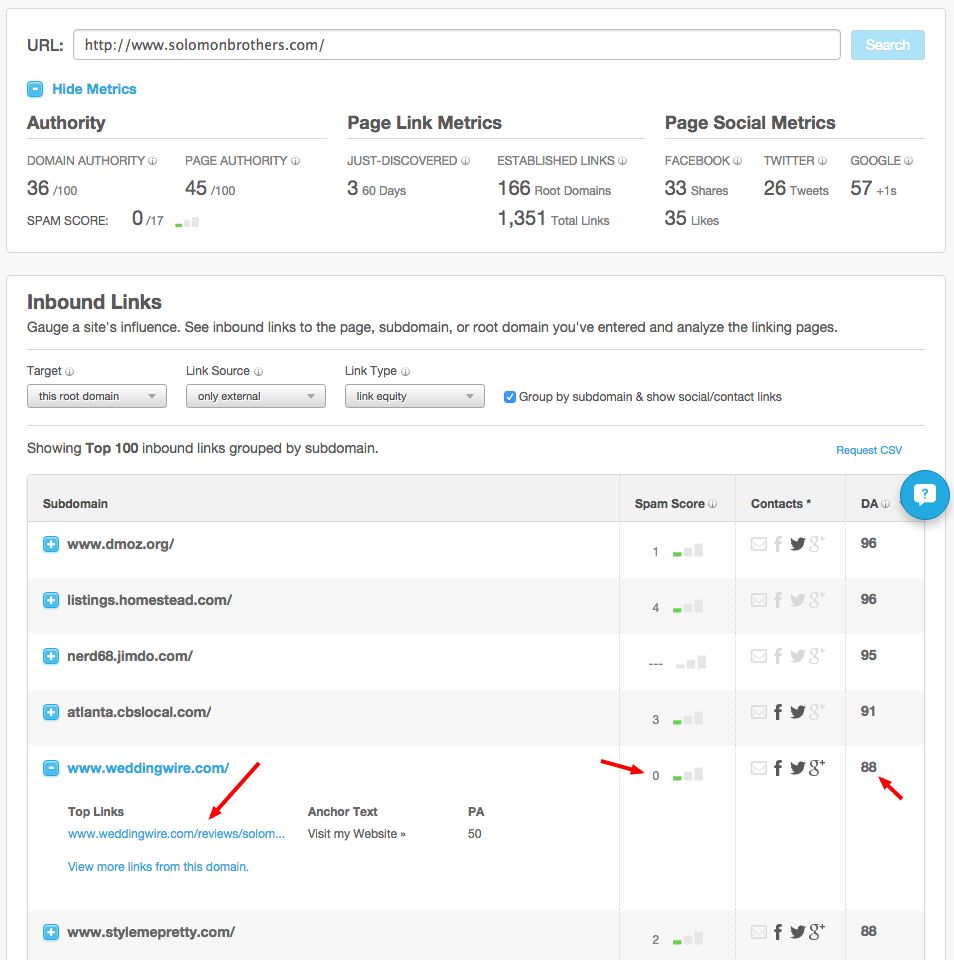 Finding Competitor Link Opportunities
My first thought looking these results is that at some point these guys had someone doing some link building for them, since dmoz.org is known in the SEO industry as a legitimate and relatively easy link pickup (go for it).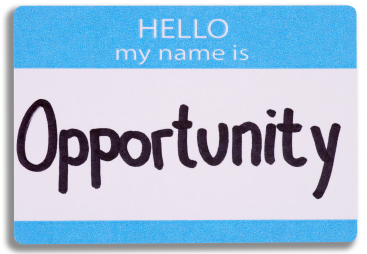 I'm also seeing this weddingwire.com site that has a very high domain authority of 88 and an impressive page authority of 50. Page authority is important since that's where the link is actually coming from. The site also has a zero spam score. It's not easy to have a zero spam score — you can see that even the CBS news site has a spam score of 3.
The wedding link itself appears to be on a review page (note the /review in the link). So if I had a jeweler as a client I'd tell them, "We need to ask one of your happy customers to review you on this wedding site!"
By looking through who's linking to your competition, you may find some opportunities to earn some links of your own and help boost your local SEO results!
Time to Get Your Edge with Local Link Building
Congratulations! Doing basically any of the above beginner SEO local link building is likely more SEO than your local competition is doing, and that will become a strong advantage for you. Eventually, these competitors may try to up their games after seeing all the fun you're having — but if you stick to this mindset of earning quality local links over time, then good search engine karma should come your way!
Smarter Than Your Competition
Beyond local SEO issues like those outlined in this post, staying competitive in search engines also means making sure that your site is in good working order. Using quality servers, making sure your links aren't broken, keeping your code updated and secure, and checking for issues Google may have indexing your site are all factors in your local search performance.