There are a ton of local search ranking factors, but the easiest and most basic is spreading your correct business name, address, phone (NAP) and website information across the web, from Superpages.com to Citysearch, and everything in between. This is an epically under-utilized local SEO fundamental, and I've written extensively about it here.
Take Control of Your Business Listing Information (& Feel Awesome About It!)
My aforementioned post is worth a read, but the basic idea is that business listing information doesn't just magically appear all over the web. Business Registration Managers, or BRMs, collect and sell this information to other businesses. For example, Yelp doesn't have a 10 story building of people frantically adding every business information into its system. Rather, the review site got that information from a BRM.
How Does Your Business Listing Get Around the Web?
One of my all-time favorite infographics shows which companies disseminate business information, and to where. As you can see, Infogroup, Acxiom, Neustar Localeze, Factual, and UBL are the major players.
These BRMs are where you want to update your business listing information so that it's consistent and pervasive across the web. Chances are they already have your listing thanks to government records and who knows what, so your job is to claim it before your competitor does. And yes, everything reinforces itself and feeds back to Google. We mentioned SEO, right?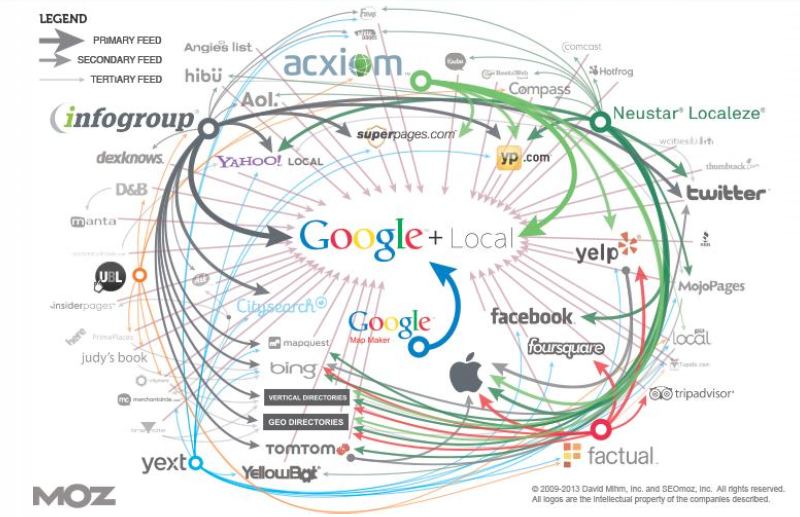 I Hate Spending Money. Which Business Registration Managers (BRMs) are Free?
If I were launching a brick-and-mortar business, you better believe I'd immediately submit my information to most of the "outer ring" outfits, even the ones that cost. But then again, SEO is in my DNA. So you might be wondering — which BRMs are free?

Good question; we get that a lot. By far, the most bang for your (zero) buck is Express Update by Infogroup and Acxiom. Both have paid versions, but finding and claiming your business with these juggernauts is a huge step in the right direction, and chances are your competitors have no idea what I'm talking about. Here are the links, which weren't that easy to find — so get to it!
Infogroup: http://www.expressupdate.com/search
Acxiom: https://mybusinesslistingmanager.myacxiom.com/
If you use those two links you'll be well on your way to a solid local SEO foundation. You do not have to add yourself to every dinky directory on the web.
Good luck, and let me know if you have any questions or need some help with local SEO!